We design and produce energy-saving, cost-effective and low-emission equipments with pro-ecological mind-set.
Low Emission & Energy-Saving Burner

Are you in trouble such as...
When a fire is on,
the kitchen is too hot !
the electric consumption is high ! etc...
If so, our regenerative burner solves your problems.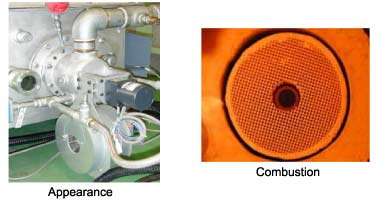 Advantage
(1) Saving energy consumption
Through regenerative heat exchanger, it reduces more than half of the current energy consumption by heat recovery from flue gas. More over, as the temperature of the flue gas goes lower, it widely saves the electricity consumption of air-conditioner.
(2) Excellent environmental performance
Generally, the NOx concentration is the same level as the former burner. And the concentration of CO is about half of the old burner.  
(3) Wide operation range
Extremely stable combustion is possible in the low load because of the high pre-heated air temperature.
(4) Even heating
The radiation board accumulates the thermal energy from flame and indirect even heating achieves.
(5) Far infrared rays
By the far infrared rays radiated from the ceramic board radiation board, cooking effect like charcoal fire BBQ is acquired.
(6) Easy operation
Turning on, off, automatic temperature control are possible from the control panel.
(7) High Safety
Automatic emergency shut-down will be possible in the case of blowing off of the flame, unusual heating and etc,.
(8) Compact appearance
A combustion chamber, a burner gun, a regenerative heat exchanger, a fan and a motor are all-in-one so that it does not take its space for installation.
(9) Possible to use for the former kitchen
The same effect is gained by just exchanging the former burner
Specifications
*Capacity: 10000〜300000kcal/hr
*Fuel consumption rate: less than half of the former one
*Fuel type: town area gas, LPG etc.
User
*Gas oven, Fryer, baker, Furnace, Other heating machines