Regardless of the type of service provided, clients can be assured of the quality and professionalism of EED's
Construction of waste disposal system and technical development
The construction of intermediate waste disposal system needs the system optimization technique and engineering capability for the each component. We provide the optimum intermediate waste disposal system for customers based on economical and reliable engineering. We also have excellent professionals who have experienced in R&D (research and development) and we will satisfy your needs for sure.
For example,
The wide range of incineration and gasification system
System components (refuse feeder, incinerator, cooling tower)
Hue gas treatment system
etc.
We provide the system design, the manufacture, the construction, and pre-commissioning service.
The provision of energy saving system
We provide high efficient and economical combustion and heat-transferring equipment and we contribute to prevent global warming by our energy saving system. The design of combustion / heat-transferring equipment (regenerative burner which combines burner and heat exchanger) and its system are the latest technology that achieves long-term operation and the great energy saving effect.
We provide the design, manufacture, construction, and pre-commissioning of combustion and heat-transferring equipment.
The examples are
Heating furnace
High Temperature Gas Generator
Industrial furnace
Deodorized furnace
Rotary regenerative burner enables high efficiency and more compact. By rotating air and flue gas duct, only one regenerative burner is needed. This is the rotary regenerative burner and we give a great contribution in the development and practical use.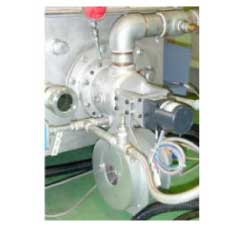 External appearance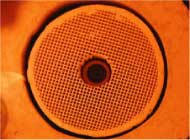 Example of Rotary Regenerative Burner